San Martino di Castrozza Panoramic road ss50 of Passo Rolle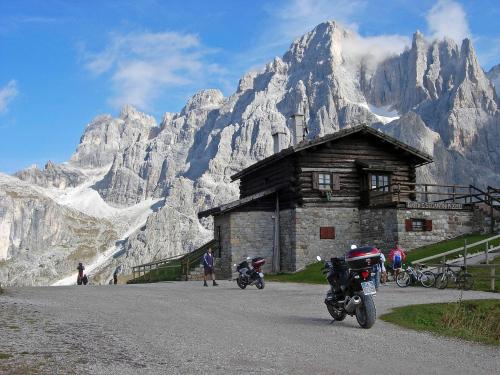 San Martino di Castrozza is a crossing point for bikers and centaurs.
Located in the area of ​​the Southern Dolomites, it is strategic for motorbike excursions, breathtaking views and landscapes that change within a few kilometers. You can vary from the alpine environment of Passo Rolle from the wild environment of Val Noana to the Caldaro vineyards. on the Wine Route, in the areas of Fondovalle del Primiero, Val di Feimme and Fassa.
ITINERARY 1 (THROUGH THE DOLOMITES NORTH SOUTH AMERICA GROSSGLOKNER)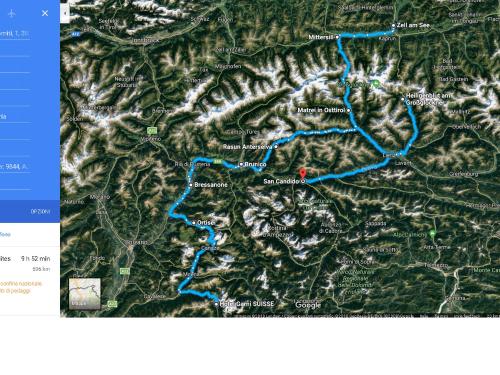 Departure San Martino di Castrozza
-Passo Rolle (Pale di San Martino east- Lagorai west)
-Moena (Val di Fassa)
-Ortisei- Selva (Val Gardena)
-Bressanone (Val Isarco)
-Stalla Stalls - Anterselva
- Matrei in osttirol (osttirol)
-Galerie Dei Tauri- Felberntauern (Hohe Tauern National Park)
-Zell Am See (Pinzgau)
-Grossglokner hochalpenstrasse (Hohe Tauern National Park)
-Lienz (Osttirol)
-San Candido (high Valpusteria)
-Cortina d'Ampezzo
-Passo Giau
- Cencenighe (agordino)
-Valles pass
- Rolle pass
Arrival San Martino di Castrozza
ITINERARY 2 (THROUGH DOLOMITES NORTH SOUTH-)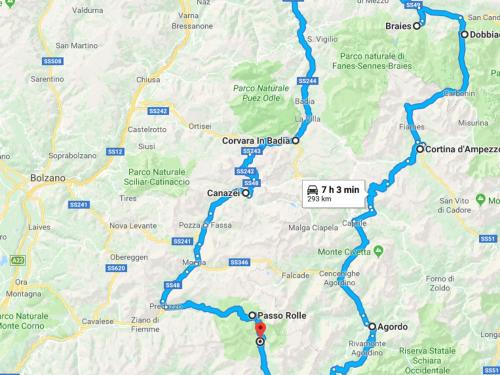 Departure H.garni Suisse San Martino di Castrozza
-Passo Rolle (Pale di San Martino east Lagorai West)
-Canazei (Val di Fassa)
-Sasso saddle
- Step Gardena
-Corvara (val Badia)
-Brunico (val Pusteria)
-Lago di Braies
-Dobbiaco (val Pusteria)
- Cimabanche pass
-Cortina (Valboite)
-Falzarego
-Alleghe (Lake of Alleghe)
-Agordo (agordino)
-Porto Cereda
Arrival San Martino di Castrozza
ITINERARY 3 (THROUGH LAGORAI LATEMAR-)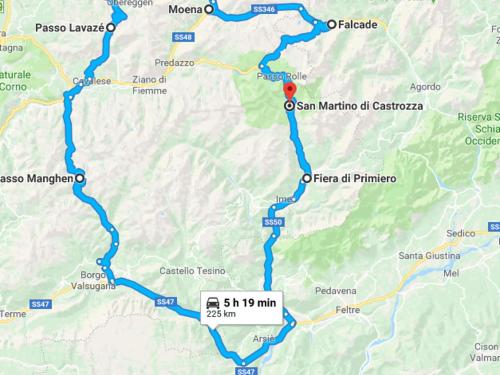 Departure San Martino di Castrozza
- Fair of Primiero (Val cismon)
-Pass Manghen (Lagorai)
-Cavalese (valley of Fiemme)
-Pass Lavazza
-Ponte Nova (Pietralba sanctuary)
-Carezza (Lake Carezza)
-Vigo di Fassa (val di Fassa)
-Moena (val di Fassa)
-San Pellegrino
-Falcade
-Passo Valles
- Rolle pass (Pale di San Martino Est - Lagorai ovest
Arrival San Martino di Castrozza
ITINERARY 4 (THROUGH AGORDINO-ZOLDANO-CADORE-)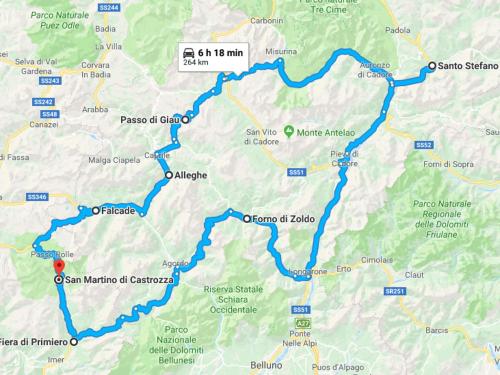 Departure San Martino di Castrozza
- Fair of Primiero (Val cismon)
-Porto Cereda
-Agordo (Agordino)
-Forno di Zoldo (Val Zoldana)
-Pieve Di Cadore (Cadore)
-Auronzo di Cadore (Cadore)
-Misurina (Lake Misurina)
-Cortina d'Ampezzo (Val Boite)
-Passo Giau
-Selva di Cadore (Val Fiorentina)
-Caprile
-Alleghe (Lake of Alleghe)
-Cencenighe
-Falcade (val del Bios)
-Passo Valles
-Passo Rolle (Pale di San Martino Est- Lagorai West)
Arrival San Martino di Castrozza
ITINERARY 5 (THROUGH TOUR OF THE GREAT WAR-)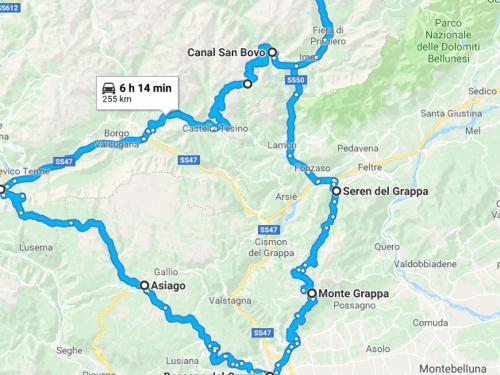 Departure San Martino di Castrozza
-Seren del Grappa (Feltrino)
-Monte Grappa
-Romano d'Ezzelino
-Bassano
-Conco
-Asiago (Altopiano d'Aiago)
-Monterovere (Panoramic Road)
-Strigno (
- Broccon pass
-Canal San Bovo
-Primiero
Arrival-San Martino di Castrozza